New Constitution for FCAA March 2019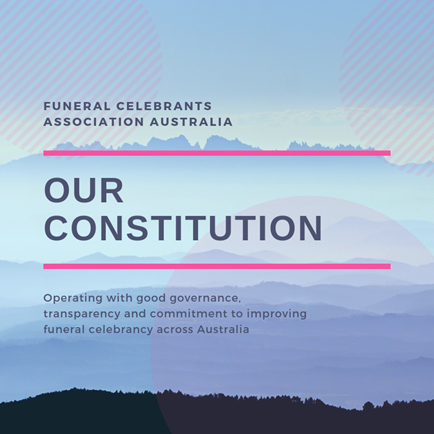 MARCH 2019
The Funeral Celebrants Association has adopted a new Constitution to lead the association through the next decade.
The Constitution was approved by Members on 27 February 2019 and became effective on 5 March 2019 after notification from NSW Fair Trading.
Key changes include:
Members who do not renew by 31 January will cease to be members - this significantly improves administrative procedures and allows us to concentrate on our Members and marketing for the future
Streamlining the election processes - the former Constitution contained potential anomalies
Clearly defines Committee roles and
overall, the Constitution is clearer, shorter and easy to read!
We thank the Constitution sub-committee of Robyn Foster, Joy Allen and Judy Pryor for their hard work in analysing, checking and revising the Constitution against the current Act, Regulations and Model Constitution, to ensure our Association is well placed for a future years.
The new Constitution can be found under the ABOUT Funeral Celebrants Association Australia tab at the top right of our website, along with the Code of Practice and Purpose and Objectives.