Funeral insurance comes under banking royal commission fire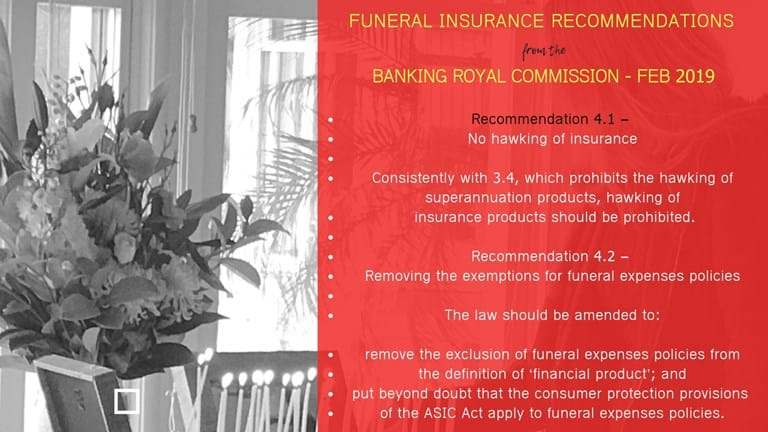 FEB 2019: Two key findings the Australian Banking Royal Commission released yesterday, apply to funeral insurance – one being to prohibit hawking of insurance products, like funeral insurance and secondly, that Funeral Expenses policies be excluded from the definition of a financial product and that consumers be afforded rights under consumer protection provisions for such products.
It is sincerely hoped that these recommendations are promptly actioned and that recompense be made to the many vulnerable people who were affected.
The key fundings are:
INSURANCE – Manner of sale of types of products sold
Recommendation 4.1 – No hawking of insurance
Consistently with Recommendation 3.4, which prohibits the hawking of superannuation products, hawking of insurance products should be prohibited.
Recommendation 4.2 – Removing the exemptions for funeral expenses policies
The law should be amended to:
• remove the exclusion of funeral expenses policies from the definition of 'financial product'; and
• put beyond doubt that the consumer protection provisions of the ASIC Act apply to funeral expenses policies.
Some of the background, verbatim from the report:
A number of case studies considered the sale of low value products, including funeral insurance for the very young,[1] sold in connection with motor vehicle purchases or credit transactions. Each of these were products that had to be 'sold', often very aggressively, by those who were paid commissions for every sale made. Each of them is a product that yields high profits for the issuer, almost always because the claims ratio is very low.
The present exclusion of some forms of funeral insurance from the definition of 'financial product' should be brought to an end.
The Commission took evidence about two types of funeral insurance: funeral life policies and funeral expenses policies. A consumer buying a funeral life insurance policy nominates a benefit amount (typically between $5,000 and $20,000) payable, on the death of the nominated life, to a person nominated by the policyholder. The recipient may apply the benefit as the recipient thinks fit. By contrast, a funeral expenses policy will pay funeral costs up to a nominated limit. Funeral expenses may be less than the nominated limit of cover.
tatistics gathered by ASIC as at 30 June 2014 suggest that funeral insurance policies sold directly to consumers are of little value. Those statistics indicate that at that time, there were about 430,000 policies covering about 740,000 insured lives.
In the 2014 financial year, more than 12,500 claims were accepted by insurers. The amount paid out in claims was about one-third of the value of premiums collected over the same period. In the preceding year, the proportion was one-fifth.
There was a high rate of policy cancellations. Most insurers identified the cost of premiums as the most common reason for cancellation.
To those statistics, I added the observations that many consumers hold policies with stepped premiums increasing with age, and that many funeral insurance products carry 'the potential for consumers to pay more in premiums over the life of the policy than they will receive as a benefit when they die'.
Both the ASIC Report and the evidence given in the Commission's fourth round of hearings indicated that Aboriginal and Torres Strait Islander people, especially those living regionally or remotely, may have been particularly likely to be sold funeral insurance policies in circumstances where those policies held little value for them.
By bringing funeral expenses policies within the definition of 'financial product', it will confirm that they are within the reach of the consumer protection provisions of the ASIC Act, and, more generally, prohibiting the unsolicited sale of these products.
ASIC has said that it intends to use its product intervention powers to intervene in the sale of accidental death insurance if it remains concerned about consumer outcomes. ASIC should also consider whether it should intervene in the sale of accidental injury insurance or funeral insurance if it continues to hold concerns about consumer outcomes.
A CASE STUDY
Mr Stewart's son was born with Down syndrome. While Mr Stewart's son has a degree of independence, he has difficulties understanding whether a product is 'expensive or cheap', and whether he has enough money to make purchases. As a result, Mr Stewart and his wife assist their son to manage his finances.
In 2016, when Freedom sold Mr Stewart's son an insurance policy, his only source of income was the Disability Support Pension.
Mr Stewart learnt that his son had taken out insurance after his son received a letter from Freedom. The letter said that Mr Stewart's son had taken out a Freedom Protection Plan, which comprised three types of cover: funeral, accidental death and accidental injury. The letter said premiums for funeral cover would not be due for 12 months, but premiums for accidental death and accidental injury cover were due 12 days later.
Mr Stewart was 'flummoxed' by the letter. He did not understand how or why his son had been signed up. Mr Stewart's son remembered speaking to someone on the phone, and providing that person with his debit card details, but could not explain why he had done so. Mr Stewart did not think that his son understood that he had provided those details in order to purchase an insurance policy.
The following day, Mr Stewart telephoned Freedom and attempted to cancel the policy on his son's behalf. Mr Stewart was not able to do this. Instead, a Freedom representative said they would listen to a recording of the call, an phone Mr Stewart back, and that the sales agent who sold his son the policy probably did not know that his son had a disability.
Mr Stewart did not receive a call back from Freedom, nor receive any response to an email sent to Freedom's Head of Operations lodging a formal complaint. Two days later, Mr Stewart phoned again.
During this second phone call to Freedom, Mr Stewart and his son were transferred to Freedom's Retention team, a group within Freedom whose chief task was to dissuade customers from cancelling their policies. That person tried to explain the potential benefits of the policy for Mr Stewart's son, and emphasised several times that the policy was free for the first 12 months. He said that there was no reason for Freedom to have known that Mr Stewart's son had a disability. However, the retention agent ultimately agreed to cancel the policy. Mr Stewart's son was asked to confirm that he wished to 'terminate the policy'. Mr Stewart's son had difficulty articulating those words.
After the phone call, the retention agent engaged in an instant messenger conversation with another Freedom representative, in which disparaging remarks were made about Mr Stewart and his son.
During the call in which the policy was cancelled, Mr Stewart asked Freedom to provide him with copies of the recordings of the sales calls with his son. Excerpts of two of these calls were played - in the first call of just over two minutes, a Freedom sales agent asked Mr Stewart's son whether his mother was at home, and discontinued the call when she was not. In the second call, two days later and which lasted for 18.5 minutes, the same sales agent sold the policy to Mr Stewart's son. Mr Stewart told the Royal Commission that, having listened to that call, he did not think that his son had any understanding of what he was signing up for.
For more, go to https://financialservices.royalcommission.gov.au/;
---
[2] ASIC, Report 587, 30 August 2018, 17 [79]. See also the analysis of the witness statements provided to the Commission relating to accidental death policies at Transcript, Senior Counsel Assisting, 12 September 2018, 5527–33.