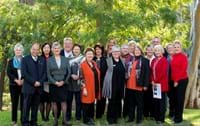 Celebrant Directory
'The Funeral Celebrant Directory with photos and detailed bios was very useful in helping us to make our celebrant choice.' Alicia B (Sydney)
---
Julie Craig-Smith Celebrant ~ Life's Celebrations
Empathetic, Dignified And Professional Funeral Celebrant
---
---
Funerals are a wonderful way to celebrate and honour your loved ones.

It is an incredible privilege for me as a Funeral Celebrant, to walk alongside your family at this difficult time. My role is to assist families, under the guidance of your Funeral Director, to facilitate the Funeral Service.

I am articulate, empathetic, dignified and professional and will deliver in the style you seek, reflecting your wishes.

Funerals give families and friends an opportunity to share the tears of their loss but also to celebrate their loved one's life.

Funeral Directors may have their own list of celebrants, however, they also work with celebrants of your choice. Please advise your Funeral Director.
---
---
We wanted to let you know how much we enjoyed your Funeral Service for Jan's mother, Bessie, yesterday. It was conducted in a beautiful and compassionate manner and the words were lovely. Some of our friends and relatives have said that it was the nicest Funeral that they have been to. Apart from the photos and music it was your contribution that made it what it was. Thanks again. We will gladly recommend your services to any of our friends and associates in the future. ~ July 2021
A big thank you from myself and the girls for the beautiful way that you carried out the Celebration of Maggie's Life on Thursday. We liked you from the moment that you visited our home to discuss arrangements … supremely professional and you instantly gained our confidence. I've had messages from all over the world, saying how they 'felt they were there' and incidentally not a dry eye anywhere, I'm told! Again, thank you – a day that we will never forget and you made it so. ~ June 2021
I would like to thank you for the manner in which you conducted Stephen's funeral service today. Your deep respect warmth and understanding was beautiful. We could not have asked for more. Many thanks. ~ May 2021
This is a BIG thank you Julie for the compassionate and professional service you conducted for mum's funeral recently. You made the process a bit more bearable, with the event running very smoothly. Within our family Julie has done 2 weddings and a funeral and Julie has been spot-on perfect every time. ~ Lee Stephens, February 2020
Julie connects with people of all ages, races and genders, and has an innate ability to put people at their ease even in difficult or complex situations. Julie has a talent for bringing tenderness, compassion, understanding and humour where appropriate.  ~ Maeve S. July 2017
---