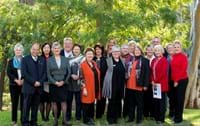 Celebrant Directory
'The Funeral Celebrant Directory with photos and detailed bios was very useful in helping us to make our celebrant choice.' Alicia B (Sydney)
---
Charmed Life Ceremonies ~ Creating Magical Moments
---
---
Having to say farewell to a loved one is never easy. The loss of a loved one can have an emotional toll, no matter how prepared you may be. The process of having to arrange a funeral can be stressful. It is understandable that grief can be quite overwhelming, and you may be unsure of the next steps to take.

Funeral Directors and Funeral Celebrants have different roles but can work hand-in-hand and complement each other in working together to provide the best service for you and your family.

Being able to honour and cherish the memory of your loved one in a celebration of their life is the last meaningful contribution we can give them. One of my passions of being a Funeral Celebrant is being able to assist families with the opportunity to incorporate their cultural or spiritual traditions into ceremony. iI that is their wish… I hope to make that happen.

My name is Rebecca Hearne, but more affectionately known as Bec. I am a compassionate Celebrant who is inclusive, supportive, and respectful of all diverse religious and spiritual communities and cultural groups.

I have been a member of the ever growing Spiritual and Pagan community for the past 20 years and have been creating a variety of ceremonies and rituals for all types of Life Celebrations for at least 15 of those 20 years.

I'm a proud Indigenous woman of Wiradjuri Nation who has worked alongside a number of local Aboriginal communities and associations.

I'm based in South West Sydney but can cater the Greater Western Sydney, Sutherland Shire, Blue Mountains, Wollongong, South Coast and Central Coast areas. I have over 20 years past experience with working Customer Service and for the past 5 years I have been working in the Funeral Industry gaining the necessary experience to be able to guide, help and support people in their time of need.

My role as your Funeral Celebrant will be to: Liaise with your Funeral Director
Meet at your home with you and family members to discuss your wishes for the Funeral Service, assist with ideas for readings, music, and other ways to memorialise your loved one
Officiate the Funeral Service at the desired location.

My goal as your Funeral Celebrant will be to create a service that not only honours the memory of your loved one but celebrates their life respectfully. By taking the time with you and close acquaintances to learn as much about your loved one through your eyes, assist in choosing poems or readings, music and any other use of ritual or symbols that would be appropriate for a truly meaningful ceremony.
---
---
Rebecca was attentive, loving, sympathetic and went out of her way to help in any way she could. The service was really special and represented our son completely. Thank you again. I would recommend this special, special lady to anyone considering using her services. ~ Liza
---