About Us and our Purpose & Objectives

Established in 2007, the Funeral Celebrants Association Australia (FCAA) is the only dedicated association for funeral celebrancy in Australia. Celebrant Members work to a Code of Practice, commit to annual professional development and are ready to deliver truly meaningful funeral and memorial services.
We believe in highly personalised funeral services and delight when families tell us 'That was the best funeral I have ever attended!'
Our Purpose and Objectives statement is registered with NSW Fair Trading. Read the Funeral Celebrants Association Purpose & Objectives.
Choose your Funeral Celebrant from our Celebrant Directory page or call or email us for assistance - we are here to help!
FCAA Constitution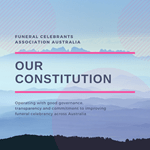 Our Constitution was updated in March 2019 to ensure true leadership in Association Membership for many years to come.
The Constitution governs how we operate and our commitment to good governance, transparency and ensuring the best for our Funeral Celebrant Members, always!
We operate on a calendar year (January to December) and usually hold our Annual General Meeting in February/March.
Professional Development (PD) Days are held in capital cities on a Sunday and generally in the first six months of the year.
In 2019, WA will host its PD Day in Perth on Sunday 19 May; QLD in Brisbane on 2 June; VIC on 16 June and NSW on 30 June in Sydney.
CBD. You can read our Constitution here - Funeral Celebrants Association Australia Constitution.
Code of Practice
Our Funeral Celebrants Members agree to work to our Code of Practice.
The Code includes the vital components of creating and delivering a meaningful funeral or memorial service. It includes meeting with the family, professional presentation and service delivery excellence.
To ensure you are confident in your choice of an FCAA Celebrant Member, read our Funeral Celebrants Code of Practice.